Grumpy


At the lab yesterday I crystated and alloquated

and thought about how much I wanted to move.
I want to move so badly I feel like my throat is closing up.
So....instead of writing about that I'm just going to do
The Daybook's
"Awkward and Awesome"
and use it as an excuse to make a pro/con list for Moscow.
Here we go...
Awkward:
-There is no water to swim in here
-The cops are super uptight (having to go to court for buildering? c'mon)
-20% of the students are part of a frat/sorority...which is like, totally whatever, except I feel like they litter a lot and I'm tired of picking up after them on my way to class
-No Target
Awesome:
There is a pretty good amount of air so I can breath as much as I want.
Okay, enough complaining. It's only a year and then I can move anywhere. Even Mars....as long as I get accepted to medical school there.
Man, I am just bumming myself out left and right. I need to snap out of it!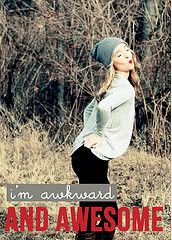 love-
Rachel
P.S. Next weeks clothes stealers is going to be an orange dress or skirt or pants. Get those pictures taken and link up!